Our Commitment to
At the onset of the pandemic, it became clear communities throughout Arizona and Florida were in need, and those needs would only continue to grow. People were going to lose jobs, students were going to lack basic resources, and emergency and frontline workers were going to lack supplies to do their jobs effectively. To help address some of these needs, the Helios Board and leadership decided to focus initially on supporting local nonprofits and community organizations at the forefront of the pandemic.
The primary goal of this work was to provide general funding to support COVID-19 response and recovery in both states, with a primary focus on support for programs and organizations helping students and families impacted by school closures in Arizona and Florida.
Knowing there was immediate need, during phase I of funding, Helios responded by getting resources to those organizations that were on the ground and able to move quickly. Helios gave $650,000 to community organizations in Arizona and Florida with a focus on Tampa Bay, Central Florida, and South Florida and the two largest counties in Arizona—Maricopa and Pima. These investments were combined with other community donations to provide financial support related to immediate and emerging needs of organizations and the vulnerable individuals and families they serve.
More specifically, the funding was used to help ensure schools and other educational entities could meet the immediate needs of students and their families.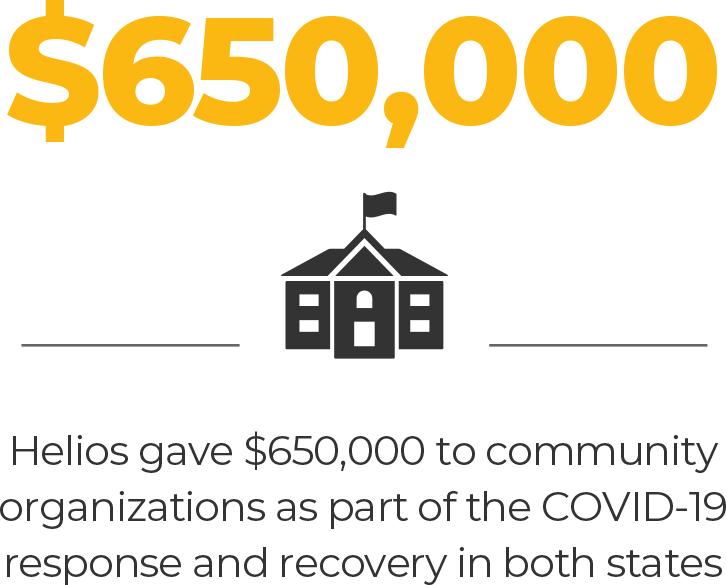 The following is a list of organizations that Helios supported with COVID-19 Response Funding:
United Way of Miami-Dade

Operation Helping Hands – Miami Pandemic Response

United Way Suncoast

COVID-19 Response and Recovery Fund

Community Foundation for Southern Arizona

COVID-19 Community Support Fund

The Miami Foundation

Community Recovery Fund – COVID-19

Valley of the Sun United Way

United for the Valley COVID-19 Fund

Heart of Florida United Way

Alice Recovery Fund – COVID-19

Community Foundation of Tampa Bay

Tampa Bay Rapid Response Fund – COVID-19

Arizona Community Foundation

COVID-19 Community Response Fund