Our Message
2011 In Retrospect
Helios Education Foundation is working to change lives through education and, through its investments, the Foundation is preparing students to achieve postsecondary education success. As studies predict, the 21st century global community will require a more educated and skilled workforce. Today's students must master the critical thinking, problem-solving and analytical skills needed to be successful in a globally competitive environment.
By investing in education with a focus on STEM (science, technology, engineering and math), Helios and its partners are not only helping students acquire these skills but are creating a college-going culture that values and promotes academic persistence and success. Students at every level, from early childhood education, through the transition years and on to postsecondary education, must be ready to learn and academically prepared to succeed.
Helios' investment of over $12 million in education in Arizona and Florida in 2011 is already working to improve teacher quality in the classroom, increase curriculum rigor, especially across Grades 5-12, and widen pathways to a postsecondary education for thousands of students.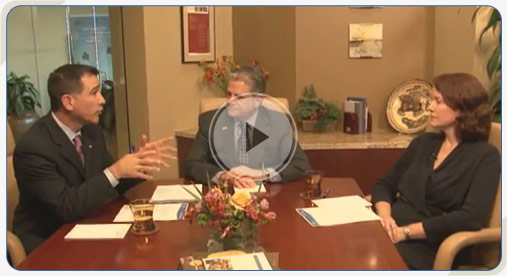 Foundation Chairman Vince Roig along with President and CEO Paul Luna and Executive Vice President and Chief Operating Officer Barbara Ryan take a moment to reflect on the impact of the Foundation's investments in 2011 and highlight some of the key partnerships that ultimately could lead to system-wide change.