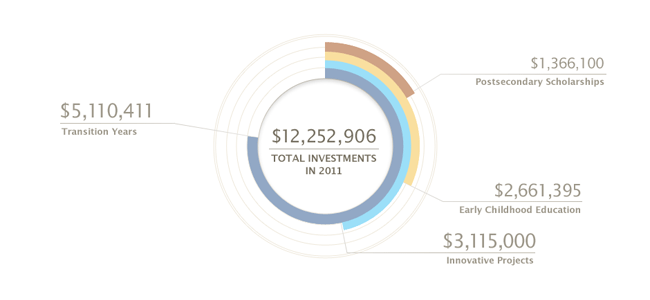 Creating a College-Going Culture
By focusing its financial resources across key areas along the education continuum, Helios Education Foundation is building a pipeline of students destined to achieve postsecondary education success. But when viewed as a whole, the Foundation's impact in early childhood education, the transition years (Grades 5-12) and postsecondary scholarships is creating a college-going culture that values the power of education and the change it ultimately represents.

Through professional development opportunities in Early Childhood Education, Helios' is bringing high quality teachers and practitioners into the classroom, or in-home setting, who have a solid grasp of emergent literacy and language acquisition skills. The Foundation's work is also focused on integrating emergent literacy and language acquisition training into postsecondary education programs.

The greatest area of emphasis for Helios is the Transition Years. An average of 55 percent of the Foundation's annual investments are made across programs and initiatives that help students transition successfully from middle school to high school and from high school to a postsecondary education. These partnerships are improving curriculum rigor and relevance and family and community engagement, as well as getting students more excited about STEM (science, technology, engineering and math).

College access, persistence and completion all drive the Foundation's investments in Postsecondary Scholarship programs. Increasing access to a postsecondary education for students from underserved and underrepresented populations, including first-generation students is critical to ensuring more students acquire the high level skills employers seek. Through scholarships and other supportive services, Helios is creating more opportunities for individuals to attain a postsecondary education.